Existing-home sales rose again during the month of May while sellers benefited with a lift in home prices, according to a recent report by the National Association of REALTORS (NAR). Existing-home sales, which include recently purchased single family, townhomes, condominiums, and co-ops rose 4.9 percent in May to a seasonally adjusted 4.89 million units for the year.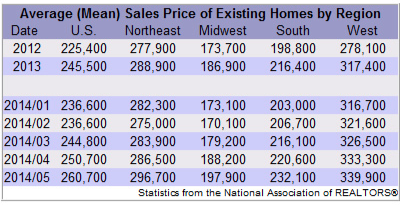 NAR chief economist Lawrence Yun believes the increased inventory benefits our current market. "Home buyers are benefiting from slower price growth due to the much-needed, rising inventory levels seen since the beginning of the year," he said. "Moreover, sales were helped by the improving job market and the temporary but slight decline in mortgage rates."
Nationally, total housing inventory increased 2.2 percent during May to 2.28 million units. The median time for homes to sell was 47 days in May, roughly the same duration reported in April. Fourty-one percent of May home sales were on the market for less than a month.